Wednesday, March 13, 2013
Quilts on the Wall had their first critique after the March meeting. The initial participation in the critique was fabulous. We had a nice assortment of "Red" quilts to look at and consider during the process.
I had a great time and learned not only from the comments on my quilt but also from the comments of the other quilts. It was fun to see all the interpretations of the theme and the fabulous work of the other artists.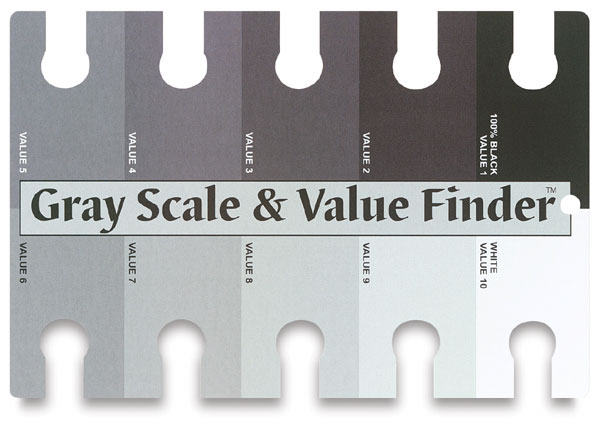 gray scale and value finder
From the comments afterwards I think it was a great success and I am looking forward to the next challenge for the critique group. The theme for May is a value challenge. Using a 10 gray scale card, use the 5 lightest values to make your quilt. Any color can be used but the color cannot be darker than 6 on the value card.
Some color wheels have a 10 step gray scale on them and if you own one, use this.
Dick Blick
sells a nice large one with viewing holes in it for under $3. Other better art stores may carry it, my local Micheal's did not.
If you would like more information on
critiquing and how to critique
please check out
Jane Dunnewold's website
. She has some excellent articles on
critiquing
and
other topics
.
Posted: Trish
Posted by

Anonymous
at 11:57 AM
No comments:

Friday, March 1, 2013
I just uploaded a new form that can be filled out on the website for all the challenge and special exhibit shows. This should help speed up the paperwork process and take care of handwriting interpretation issues.
Log into the Info Center and go to the Forms section. At the top will be the "Artist Entry Form". Click on the title and the form will open. Fill it out and/or save it to your computer or print it out directly.
This form will clear if you close it, so print it the number of times you need it if you don't save to your computer. My suggestion is to save the form to your computer and then you will have it available when ever you need it.
***If you would like to save the filled in form you have to "print" it as a PDF. If you don't have a PDF printer already installed on your computer you can download a freeware version from
CutePDF
. This is the one I use. There are others out on the web if you want to use one of the others.***
If used for different events, just print the PDF form under a slightly different name. This will give you a history of your entries into shows and will help when deciding on your label information.
Hope this helps everyone.
Posted: Trish
Posted by

Anonymous
at 6:46 PM
No comments: